I don't know about you, but I find pre-trip projects to be a blast. I've sewn appliques on onesies for my kids' first birthdays, I have done iron on letter shirts with characters as letter fills, and most recently I used heat transfer vinyl to do monogrammed mouse silhouettes on the kids' onesies. I LOVE doing them and they make photos extra special. I try to stay on the right side of the copyright laws too, purchasing licensed fabrics when I can or otherwise respecting the intellectual property of the Walt Disney Company… but so far as I can tell I think I'm safe cutting out mouse heads. (As an aside, I think Disney is taking a more practical view of brand control recently–their social media campaigns are harnessing fan production rather than trying to stifle or filter it–but I'll leave that for another blog).
I've also used my vinyl cutting machine to make personalized trip water bottles. I find these super practical–they are not only a souvenir, but they save you money and keep you hydrated. Names are concealed on all but mine to protect my travel companions secret identities. If you prefer just picking up a flat of bottled water, check out these little pop-top adapters!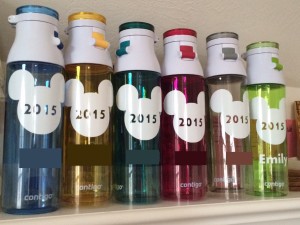 I just stumbled on http://makeitwithmagic.com/ which has a wealth of apparel ideas. They vary from the more complex (appliques) and supply-heavy to the relatively simple (bleach silhouette tees, which I am dying to try).  Surfing a little more, I found another blog full of Disney Trip DIY Crafts at  http://www.poofycheeks.com/2015/04/30-diy-disney-crafts-for-disney-vacation.html I especially like their countdown ideas, much like an advent calendar.
I'm not going to give you directions here, just pointing you in a few fun directions. For an upcoming trip, I think I'll do Mickey tees — I'm tempted to recycle the monogram image I used last time but I might mix it up instead. Instead, I might do Word Cloud Silhouette tees with names in a Mickey silhouette using a cool site called Tagxedo and some heat transfer vinyl or heat transfer printer material.
Another fun thing I may or may not do is prepack snacks for each day. My mom & dad bought amazing 'treats' and we got to pick a selection for each day in the parks. I'm thinking with preschoolers that a fun way to build enthusiasm for the trip would be to decorate treat bags for each day and then either fill and bring them, or bring the bags and fill them with the groceries we order. While we still have free bags, we can probably make room for treats in the luggage–simultanously ensuring there will be empty space for souvenirs on the way home.
I also may try to pull off these DIY Backpacks.